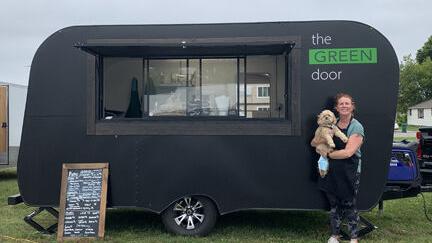 Megan MacDonell, and her trusty canine sidekick Luke, have been welcoming the Grand Rapids community to her new food trailer full of pastries, grilled cheese, and espresso. MacDonnell shared her story of coming back to her home of Grand Rapids to pursue a culinary career.
MacDonell attended culinary school for baking and pastry about twenty years ago. She then decided to take another path and earned her master's degree.
"Baking has always been in the back of my mind, but for 15 years I have been in risk management and HR [human resources] for different companies and just got burnt out," said MacDonell.
Deciding there was no better time than the present, MacDonell decided to take the leap and moved from New York to start her own bakery as a food truck in Grand Rapids.
"I'm from Grand Rapids and I know a lot of people in the community here and so it's kind of a nice way to get started because you already know a lot of people that are going to support you," MacDonell commented. "And there is nothing like it here."
After a few road blocks due to the effects of COVID-19, MacDonell was able to officially open her business—The Green Door Cafe food truck—July 10, 2020. The Green Door Cafe food trailer has many pastries available each day including scones, cookies and cupcakes. MacDonell also offers espresso drinks, homemade lemonade and ice tea, and specialty grilled cheeses. She sources as many ingredients as possible from local providers, and offers gluten-free and Keto options. Additionally, the espresso beans used are from Grounds and Hounds Coffee where 10% of the proceeds go to animal rescues.
The Green Door Cafe is parked at Glen's Army Navy store in Grand Rapids on Thursdays, Fridays and most Saturdays. Tuesdays the trailer is moved to the hospital professionals building. MacDonell also works with organizations and businesses for private events.
Despite difficulties caused by COVID-19, MacDonell is pleased with how business is going.
"Although COVID is a downer, it's actually kind of nice. I'm not getting thrown into Tall Timber Days and the fair," said MacDonell.
MacDonell added that she is always looking for feedback from the community about what they like or don't like, what else they'd like to see, and other ideas.
"Feedback is a gift," MacDonell remarked.
For more information, visit The Green Door Cafe on Facebook or email MacDonell at [email protected].