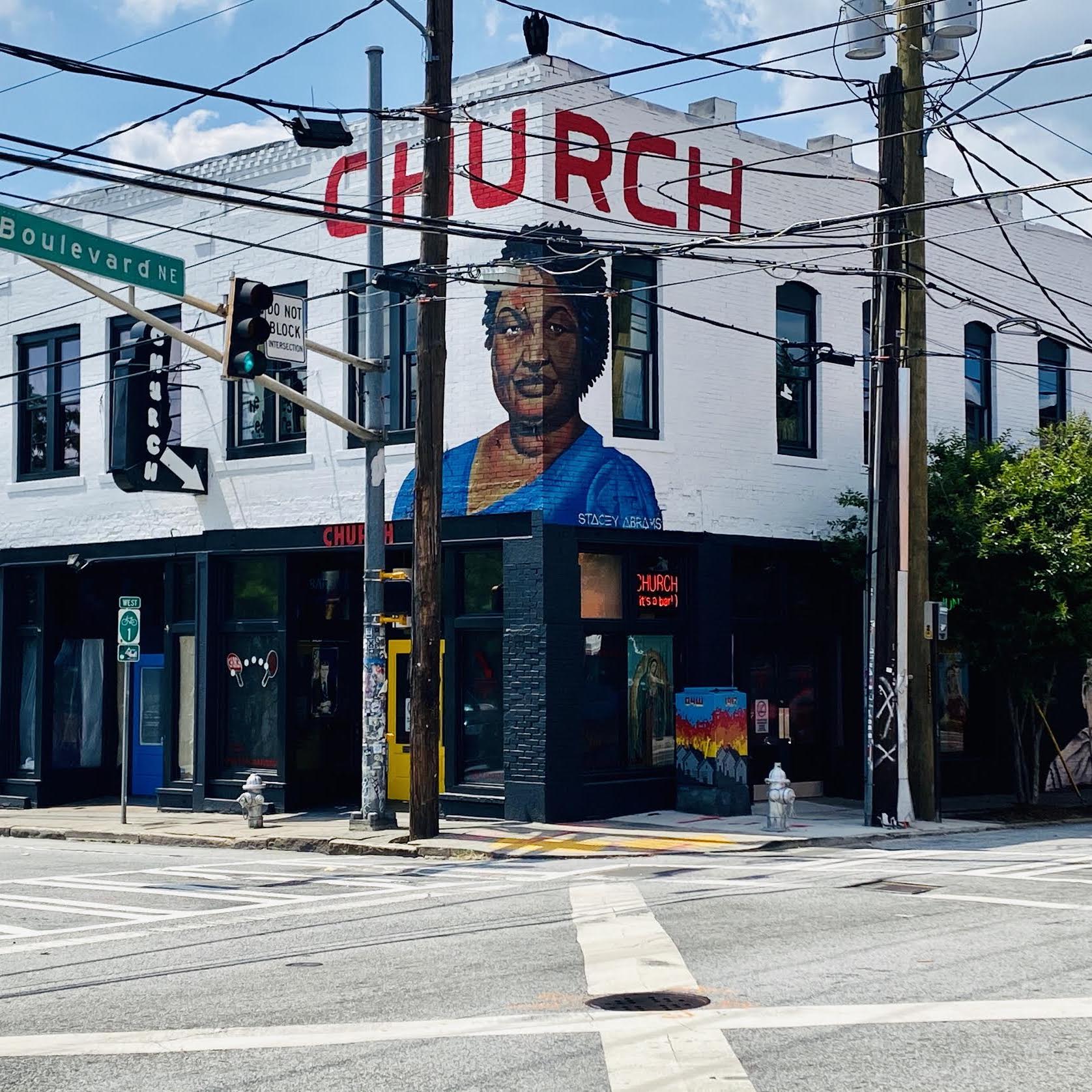 After more than a month of renovations, Sister Louisa's Church of the Living Room and Ping Pong Emporium—CHURCH for short—is gearing up to reopen in Old Fourth Ward (O4W), at 466 Edgewood Ave SE, as more than just a quirky bar.
Owner Grant Henry, in taking over the adjacent Corner Tavern space, has nearly tripled CHURCH's footprint, redesigned the exterior to resemble a Southern Baptist Church, and added food to its offerings which can be washed down with Spiritual Sangria.
Henry, originally looking to debut the expanded CHURCH, -er, "MEGA CHURCH," on June 1, will likely reopen Friday, June 19.
June 1 was the first day bars and nightclubs were granted permission by the State of Georgia to come back online after being forced to close in early-April in an effort to slow the spread of COVID-19.
In addition to finalizing the renovations, which include converting and combining the former Corner Tavern space with CHURCH, Henry wanted to push the opening to ensure doing so could be done while meeting the "pledge" he made with the O4W Business Association to follow a whopping 64 safety guidelines amid the pandemic.
"We'll do everything humanly possible to keep all staff and parishioners safe," Henry said.
While the menu is still being finalized in terms of the cheeky names Henry will use, the entrepreneur and artist did share examples of what patrons can expect.
Take for example the "Grilled Chessus" sandwiches available as the Monte CHRIST-o (Henry's take on a classic Monte Cristo) or a traditional grilled cheese, both "stamped with the face of Jesus."
The Classic Burger (OLD TESTAMENT), Deluxe Burger (NEW TESTAMENT), and THE SOUTH'REN chicken sandwich—pimento cheese, mixed greens, tomato, onions, and honey mustard, offered fried, blackened, or "vegan chicken"—round out the sandwich options.
Start with an appetizer (PRE-GRACE) like the Fried Okra or Zucchini Fries, add in a side (INDULGENCES) like Bussel Sprouts and Grits ("cheesy or not"), and choose an entree like the Church Supper which comes with a protein—everything from BBQ Jackfruit to Meat Kabob to Fried Cauliflower—and a side.
Finish things off with a "Sweet Baby Jesus" dessert which could include locally-made options from nearby O4W neighbors.
Henry on Sundays will also offer Church Casseroles and multiple Keto options throughout the week.
Take a peek at some of the progress photos below:
Photo: Official Photo: Official Photo: Official Photo: Official Photo: Official