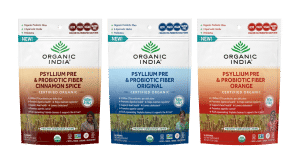 BOULDER, Colo.– ORGANIC INDIA USA launches Psyllium Pre & Probiotic Fiber in Orange, Cinnamon Spice, and Original.
"Science supports the findings that a healthy gut is the key to robust immune health," explains CEO Miguel Gil. "We are listening to our consumers who are searching for innovative products that contribute to overall digestive health."
ORGANIC INDIA's new Psyllium Pre & Probiotic Fiber offers 5-in-1 benefits including: organic prebiotic fiber which nourishes beneficial gut bacteria; Triphala, a classic blend of 3 Ayurvedic herbs: Amla, Bibhitaki, and Haritaki,­­­ to aid in digestion and nutrient assimilation; and heat-stable probiotics supporting a healthy microbiome, changing the game on how easily probiotics can be incorporated into your daily diet. The three delicious flavors adapt naturally to baking, mixing into meals, and blending into smoothies. This product is Gluten Free, Vegan, Keto, and Paleo-friendly, making it ideal for Gluten Free and Vegan baking.
Psyllium Pre & Probiotic Fiber 10-ounce, resealable pouches retail for $15.99 and are available through ORGANIC INDIA, Amazon and in select natural grocery retailers.
About Organic India
With a mission to be a trusted and an innovative global leader in providing organic products and true wellness solutions to a community dedicated to healthy conscious living, ORGANIC INDIA offers a full line of teas and whole-herb supplements that are USDA Certified Organic, Non-GMO Project Verified and certified Kosher. ORGANIC INDIA goes above and beyond sustainable – regenerating environmental, community and business ecosystems. All ORGANIC INDIA products are ethically sourced and sustainably cultivated by 3,000 small family farm partners in India. ORGANIC INDIA, a certified B Corp since 2015, was named a 2019 "Best for the World Overall" Honoree.
More general information about the product can be found at https://organicindiausa.com/psyllium-probiotic-fiber/
There is also a Psyllium Resource Book, complete with recipes and educational content, downloadable at www.organicindiausa.com/psylliumbook
For more information, please visit www.organicindiausa.com or on social @organicindiausa
*These statements have not been evaluated by the Food and Drug Administration. These products are not intended to diagnose, treat, cure, or prevent any disease.
For More Information
organicindiausa.com/psyllium-probiotic-fiber/