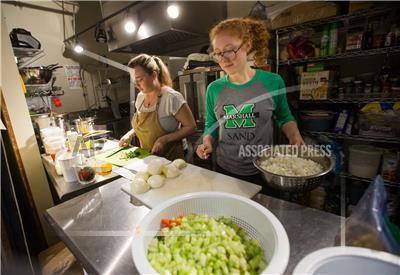 HUNTINGTON — "What's for dinner?"
In the hustle and bustle of everyday life, that question becomes more challenging — and stressful — to answer. As individuals and families around the globe add more to their ever-growing plates, dinner ideas can be the least of their worries.
That's where meal kits meet that gap. Meal kits provide a convenience factor for breakfast, lunch or dinner by offering ready-to-eat or easy-to-prepare meals.
These days, Tri-State residents have several options to meet their meal needs, especially for those who want to make healthier and more local food choices.
Butter It Up! at The Market in Huntington has its own localized version of meal prep kits, with the menu changing every week. Owner Drew Hines said each meal aims to stay under 30 carbohydrates or less and is 100% gluten-free. There are no additives or preservatives, and some menu items are keto.
Butter It Up! began offering its meal kits four years ago in store and on its website, www.butteritup.com, to support its overall mission of providing local, healthy options. Currently, Butter It Up! offers more than 100 meals on a rotational basis for 50 to 100 customers each week. Each week's menu consists of chicken, beef, pork and seafood meals, in addition to breakfast, soup and salad options. The average cost is $10 per person per meal.
Local ingredients are a priority. The meals consist of local eggs, honey and maple; local, grass-fed beef, milk, cream and yogurts; and local, pasture-raised sausage and chicken. Cheeses are local or organic. If an ingredient isn't local, Butter It Up! ensures that it's organic. Each Sunday, the team prepares ingredients for cooking hundreds of meals on Mondays and pickup days on Tuesdays.
"People have such a busy lifestyle," Hines said. "If you're just cooking for one or two people, it really makes sense to open the fridge and grab a meal that's already cooked. For some people, time is money. By the time it takes you to think about what to cook for dinner, go to the store, buy the stuff and then come home and cook it, you'll be spending more than $10. It's a matter of convenience."
These meals are also good for people who want to make healthier choices but perhaps the rest of their household isn't on the same page. Hines said this gives individuals more variety without the temptation of unhealthier choices.
Huntington resident Jessica Pressman said she orders five to six meals a week in a mixture of breakfast, lunch and dinner. She said she loves the meal kits because she is supporting her local community, with her money remaining local.
"I am a busy person, and I love that the meals are already cooked, ready to go," Pressman said. "They are healthy, the ingredients are locally sourced, and they taste delicious. It takes a lot of time and energy to plan meals day after day, and Butter It Up! takes a little of that burden off my shoulders. I encourage others all the time to use the program. It has really been a stress reliever for me to have a break from thinking about what's for dinner every night. I think it's also a great option to gift to someone who is ill or maybe just had a baby. It's a fantastic program, and I think it'll spread like wildfire once it catches on."
South Point, Ohio, resident Melissa Stewart uses Butter It Up!'s meal kits to continue to make better food choices and maintain a healthy weight despite her busy schedule.
"I started ordering off the a la carte menu on April 7, 2019, and I have ordered exactly 41 times," Stewart said. "I average around $50 each order, and I look at this as an investment into the local economy, as well as an investment into my own personal health. I currently have my freezer stocked up with fresh local meal options rather than something from the grocery store that I have no connection back to how it was grown or raised. Busy moms everywhere owe it to themselves to check this out and see what it can do for them, as well as their families. There are no negatives to this incredible, life-changing service."
Another local option is The Wild Ramp's made-to-order meal-kit service through its Harvest Kitchen program. The goal of Harvest Kitchen is to use local and regional products offered in The Wild Ramp to craft ready-to-eat meals, snacks and other items.
Started in August 2019, the growing meal-kit service offers convenience with a side of community education. Harvest Kitchen uses local, seasonal ingredients in each meal and offers approximately five meals per week with some vegetarian and vegan options. Initially, it kicked off the program with one meal, but as demand grew, staff met the needs of its customer base.
"We're always trying to think of ways to make local food accessible to the community," Harvest Kitchen manager Devyn Messinger said. "I do this for a living, and I don't cook every day. People don't have the time to cook like they used to. Whether it's a demanding career or you have a family to feed at home, meal kits or prepared meals offer that home-cooked meal that you can't get, and it replaces the convenience of fast food and offers you a healthier alternative. This is already prepared, and you know that the food that you're getting is fresh and local. You're getting to come in and see the farmers that bring in your food. You're not guessing about where your food comes from. It's more of a personal relationship."
Each meal serves two people and costs an average of $12. Family-sized meals, which feed four people, are also available. Each week, staff prepares the meals, which are then frozen or kept fresh, depending on the season. Meal kits can be ordered at www.wildramp.org.
"The Wild Ramp created a wonderful service with the Harvest Kitchen meals," said Huntington resident Cara Bailey. "I think I've recommended it to every friend and every family member multiple times. As a working mother, the idea that someone else has cooked my family a fresh, delicious meal that also supports local businesses ticks every box for me. The ingredients are quality, the prices are incredibly reasonable, and my kitchen stays clean. I love the way I can order it and pay for it online, then my husband can pick it up on his way home on the day it's prepared.
"The Harvest Kitchen provides guilt-free ways to eat conveniently and affordably. I encourage people to give it a shot. The meals are affordable and the portions are generous, so trying one week of meals has little downside. If it works for you, keep trying it. The managers are continually looking for ways to update the ordering system so the entire process is convenient and stress-free."
Messinger said Harvest Kitchen's meatballs are one of the most popular items. In the future, she said the kitchen hopes to expand its menu offerings to include more tried-and-true Appalachian items, as well as other cultural foods to expand the palate of the community. She said the kitchen will also venture into cooking more gluten-free meal kits.
For the adventurous types who want to prepare their own meals with at least half the hassle, nationally based options, such as Blue Apron and Hello Fresh, could be a good option. Both companies have plans that deliver ingredients and recipes right to customers' doors.
To learn more about Butter It Up!'s meal kits, visit www.butteritup.com. To learn more about The Wild Ramp's made-to-order meal-kit program, visit www.wildramp.org.