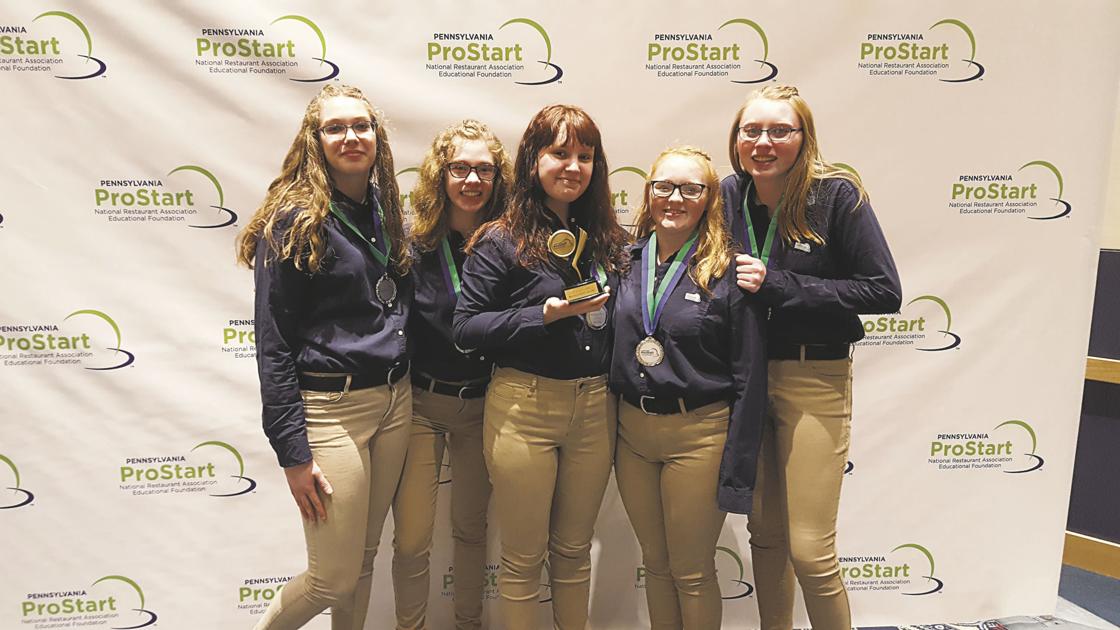 As a free-standing Keto-American restaurant, The Rustic Faucet is unique among Crawford County eateries in serving the low-carbohydrate, high-fat meals that make up the ketogenic diet that has become popular in recent years.
The Rustic Faucet also doesn't exist — at least not yet. But a team of culinary arts students from the Crawford County Career & Technical Center have a vision for it, and their idea recently took second place in a statewide contest held in State College. It's the second year in a row a team of chef Tim Brown's students have won a silver medal at the Pennsylvania ProStart Student Invitational.
"They developed an idea and presented it in a trade show fashion. The judges question the students — kind of like the show 'Shark Tank,'" said Brown, the center's culinary arts instructor. "I am really proud of them. It took a boatload of preparation to get together."
Crawford County Career & Technical Center students Kelsie Huya, Calissa Joliet, Jordan Linz, Melanie McDonald and Mackenzie Tatters made up the team that took part in the management division of the annual competition on Feb. 26 at the Penn Stater Conference Center Hotel.
The group, led by team manager Joliet, finished behind a team from Central Westmoreland Career and Technical Center, located in New Stanton.
"Not only will there be keto foods served but regular American foods also. Under each menu category, there will be a Keto food item and an American food item," the students explained in a proposal submitted for the competition. "While eating, you will be so comfortable that you will be able to feel that you are at home."
Mike Crowley can be reached at 724-6370 or by email at [email protected].