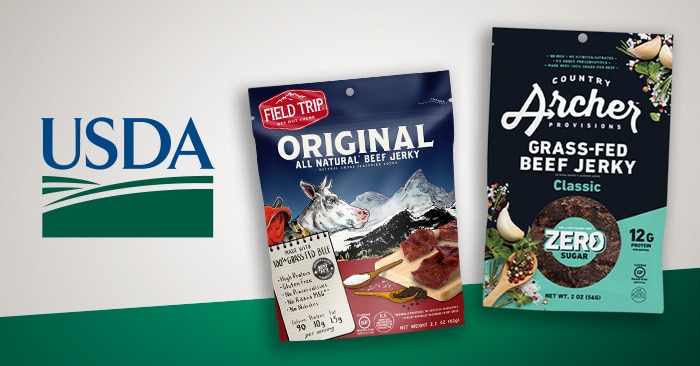 The U.S. Department of Agriculture (USDA) last week expanded its guidelines for products that can use the label claim "healthy." The update could be a boon for meat snack brands looking to boost their products' health claims — but while those brands welcome it, they don't see the designation as a game-changer.
According to a notice in the Federal Register March 19, meat and poultry products either not low in total fat, but with a fat profile makeup of predominantly mono and polyunsaturated fats, or products with at least 10% of the Daily Value (DV) of potassium or vitamin D per serving, can use 'healthy' on their packaging.
The guidelines are the same as those set by the FDA in 2016 for the food products it regulates. The goal then is to maintain consistent requirements across all foods, regardless of which agency regulates them, a USDA Food Safety and Inspection Service (FSIS) spokesperson said. The notice aims to address questions received from the industry and provide clarity for manufacturers to prevent errors in label proposals. If a USDA-regulated company meets the criteria and wants to use a 'healthy' claim, it should submit at least one label sketch to FSIS' Labeling and Program Delivery Staff (LPDS) for approval. The USDA is accepting comments on the guidelines until May 18.
On the CPG side, the new rules could apply to meat snacks, which are regulated by USDA. While the flexitarianism trend grows, with recent studies noting both meat and plant-based foods are growing, perhaps a 'healthy' label could bring even more consumers back to meat. But many meat snack brands are already widening their appeal to health-conscious consumers with low or no sugar options, label claims notwithstanding.
Even without the claim, meat snack company Country Archer Jerky Co. is launching Zero Sugar Beef Jerky in three flavors: Spicy Sesame Garlic, Mustard BBQ, and Classic to appeal to keto, low-carb and low-sugar diets, each with 11-12 grams of protein per serving.
"We're always striving to elevate our offerings with fresh innovation that meets the evolving needs of better-for-you shoppers," Eugene Kang, co-founder and CEO, said in a release.
The jerky will launch with an MSRP of $6.99 in Whole Foods Markets in the Southern Pacific region in June, rolling out the Classic and Mustard BBQ SKUs nationally in October, and at Sprouts in August. The brand is sold in 25,000 stores including Walmart, Wegmans and Safeway.
The company also announced a brand redesign across the portfolio — and updated the brand name to Country Archer Provisions to emphasize core values of real ingredients, sustainability and authenticity, the release notes, with "provisions" reflecting a commitment toward innovating beyond traditional jerky into mini and full-size meat sticks.
Jeff Wong, Country Archer's VP of marketing, said the company trusts consumers to understand its core principles: real ingredients, sustainability and authenticity — without a blanket term like "healthy."
"When it comes to our packaging, we think it's more valuable to give the consumer the information and explicit details to help them make an informed decision," Wong said. "We feel it's more effective to specifically mention our practices that make our products better for you. Consumers are smart and know what they are looking for."
Matt Levey, co-founder of Field Trip Snacks, doesn't think fat content should determine what's 'healthy' — or that adding the word on his packaging would matter. Terms like 'healthy' and 'all natural' have different meanings across categories, he noted, and jerky products already feature multiple labeling callouts around nutrition and meat sourcing. That's because these brands are still fighting the stigma some consumers still have against meat snacks, even though a large number of better-for-you brands have emerged in the last 10 years, Levey said. Plus, Field Trip jerky is relatively low in fat; even so, a 'healthy' claim is unlikely to make a huge difference, he said: consumer education matters more.
"Jerky has so many claims because it was an ugly industry for so long; people wanted to show the difference between what the consumer viewed as jerky and better-for-you jerky [brands]," he said. "It would probably get lost in the midst of many other marketing claims."
One snack where 'good' fats still reign is pork rinds. But that doesn't mean those brands are on board either. Pork King Good's managing partner Rick Koston said even though the products are high in protein and good fat, 'healthy' still varies person to person.
"All people are different, and with those differences come different dietary needs and criteria," he said. "Would I stick 'healthy' on pork rinds or any meat product? No, but I would put: 'Probably a healthier option than eating a package full of cookies.'"
The update comes amidst other recent and pending regulatory updates to clarify nutrients in food. FDA's new nutrition label guidelines went into effect January 1 for companies with over $10 million in annual sales, featuring a new dual-column layout to better clarify single servings. USDA is also updating the U.S. dietary guidelines, with a final report due by the end of May.