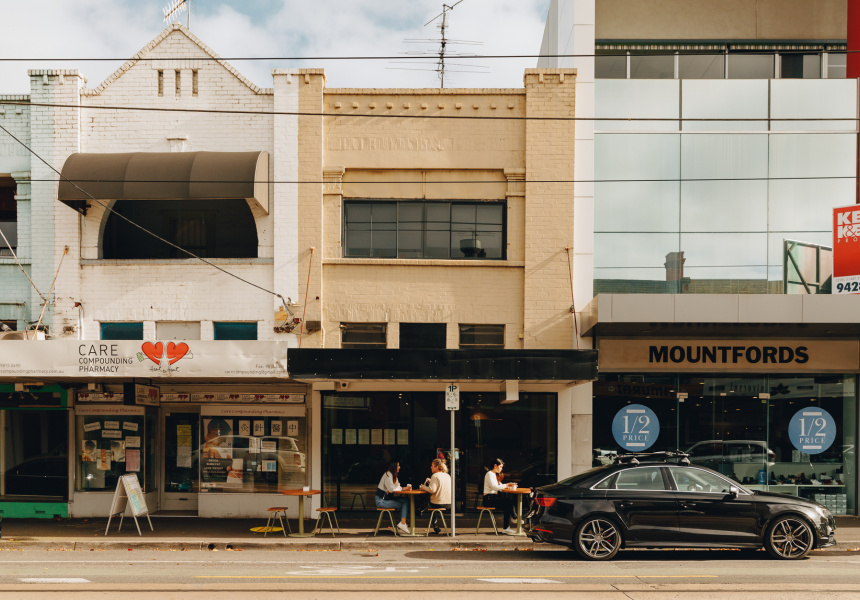 Eight years ago, Natalie Guest developed a green smoothie habit. She was so taken with a recipe she found online – a blend of fruits with leafy greens such as spinach or kale – she wound up drinking one most days. Soon she was spruiking them to family and friends as well.
"I've made it my daily habit," says Guest. "They made me feel so good [and] they tasted yummy."
In 2014, she and her husband Simon opened a South Yarra cafe dedicated to the vibrant green drinks, along with other smoothies, acai bowls, and smashed avo on toast. They aptly named it Green Cup.
An Armadale outpost soon followed, and two weeks ago the couple opened a third cafe in Hawthorn. Similar to the previous stores, the new space is crisp and bright with white brick walls, sleek curves, marble benchtops and indoor greenery. Designer Claire Larritt-Evans added a pale eucalypt hue to the colour palette via shelving, tables, banquette seating and signage.
There are now seven variations of green smoothies on the menu (which is mostly vegan aside from honey in some combos). Most blend spinach and kale with fruit and some combination of nuts, coconut water, almond milk, chia seeds or dates. The popular Green Cup 1 combines spinach, kale, banana, strawberries, blueberries, spirulina (a blue-green algae), mesquite (powdered seed pods that add sweetness), chia, dates and coconut water.
Leaf-free smoothies include The Peanut Butter Cup (peanut butter, banana, chia, dates and almond milk) and the Cookie Dough (oats, banana, vanilla, cinnamon, almond butter and almond milk). A Chocolate Shake is made vegan by switching out cow's milk for almond milk and has cacao and cacao nibs, cinnamon, maca (a root native to Peru with an earthy flavour), almonds, banana and dates.
Acai bowls start with a blended frozen acai berry and banana base, and can be topped with fresh fruit, granola, nuts, Nutella, house-made peanut butter, coconut yoghurt and more. Guest has one for brekky about three times a week.
"Six years ago, very few people knew what an acai bowl was, but now you'll be hard-pressed to find someone who doesn't … It's not the old cardboard-tasting health food you used to get," Natalie says.
Green Cup uses bread from North Fitzroy's Dench Bakers. Top your toast with smashed avocado then combine with vegemite, chilli, chia or tomato; or try peanut butter and banana. Seasonal specials include toasties with pesto or kasundi (Indian tomato relish), and porridge in winter.
Coffee comes from Brunswick's Wide Open Road, and the caffeine-free list includes Prana Chai, Matcha Maiden and Healr turmeric lattes.
There are also jars of house-made peanut butter for sale, alongside keto and paleo granola mixes from The Monday Food Co, protein and matcha powders, Love Tea blends, reusable smoothie straws and Frank Green reusable takeaway coffee cups.
Green Cup
763 Glenferrie Road, Hawthorn
Hours:
Mon to Fri, 7.30am–5pm
Sat & Sun, 8am–4pm