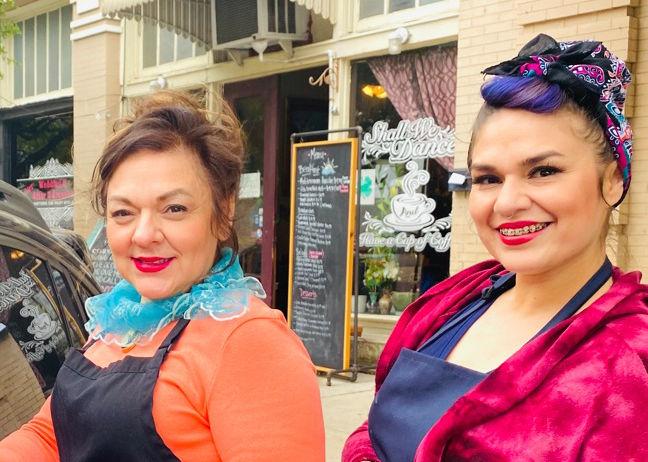 Diana and Adelaide Castillo have been in the business of making "food with love" in the downtown area for some time now. These days, Lady Diana's Zen Cafe is still getting used to an increase in making deliveries as local businesses resort to a curbside, catering and to-go business model.
A mom and daughter team, the Castillos opened Lady Diana's in 2016, starting as a coffee shop. Over time, the business expanded to serving sandwiches and other healthy fare including vegan and vegetarian options.
Using her culinary and mixologist experience, Adelaide refined her coffee making craft to enhance all of their menu's drinks, adding new life to their tastes, and tailoring each specialty beverage to their customer's wants. At Lady Diana's, eating is viewed as an intimate experience.
"We made eating healthy fun and exciting," Adelaide said. "We service all types of food from a hearty 'hungry man' fireman type of appetite, or if you're more leaning toward the health conscious, our menu is pretty versatile to meet those needs."
Some of those versatile favorites include a jalapeno popper grilled cheese sandwich on a gluten free bun, which is made in house, and can be customized for vegan options. Other popular meal items include stuffed avocados filled with either hummus or chicken salad. The cafe is also offering meal prep options for families, and is planning to introduce a large size burrito in the near future.
For drinks, Adelaide recommends the sopapilla latte for sweet tooth enthusiasts, or the keto cookies and cheesecake cups.
"We live in a small town," she added. "We know that when you have specific eating patterns, you don't always get that luxury of going to Dallas."
All of these foods come from family and family-based recipes that are made from scratch, featuring diabetic-friendly selections, and options that are tailored for keto diets.
As with any local business, Lady Diana's is having to readjust their service to meet the recent shelter in place guidelines.
"You have to get really creative in servicing the community, because people still need to eat," Adelaide said. "You never know what you're going to be pushed into until it actually happens. You just regroup and keep going, and you just hope for the best that nothing expensive continues for our community. A lot of people have been hurting lately."
Never one to rest on their laurels, the Castillos are using this unusual time to rebrand themselves as Simply Fresh Coffee, Kitchen, and Bakery.
"We're just very appreciative of those that drive to come get our products," she said. As for helping to support local businesses, Adelaide suggests sharing their posts on social media so people can see they are still open and providing to the community.
"It only takes a moment," she said.
Lady Diana's Zen Cafe
106 W. Sixth Ave, Corsicana
7 a.m. to 2 p.m., Monday through Friday
9 a.m. to 2 p.m., Saturday
903-467-3165
Are you a restaurant owner offering delivery, take out or curbside service? Email
[email protected] for consideration in our upcoming Curbside Corsicana series. #thegreatamericantakeout @texastravel @texastravelnews
On the Net:
https://www.facebook.com/Lady-Dianas-Zen-Cafe-420295348159151